Isn't it amazing how our Lord so intimately knows your needs before you ask HIM to help you.  It has been a rough 2.5 years.  It has been the deepest longest valley I've yet had to walk.  As a result, depression, self pity, heartache and general hurt have been my constant companions.  And man, I can't get rid of them soon enough.
I am tired of the battle.  I am ready for a break.  But its not really my call.  Hindsight, I see God's hand leading me in the darkness.  HIS promises are true.  Not that I doubted, but every so often I wished HE promised to make it go away.  
During church service yesterday, the pastor was talking about something C.S. Lewis said.  If only I had heard this years ago.  But then, it wouldn't have mattered years ago.  These ignorant ears would not have understood the wisdom.  Its the walk the made the words real.
On another note.......
WHAT A GREAT WEEKEND FOR FOOTBALL!!!!
My rear end decided that only the basic of chores were merited.  So, my bed was made, the floors were vaccumed, and my family was fed.  Oh, and the kitchen was cleaned up.  Other then that, I was not moving from that couch until the last minute of that time clock ran out.
And it was all worth it.  :)
And the man of the hour is........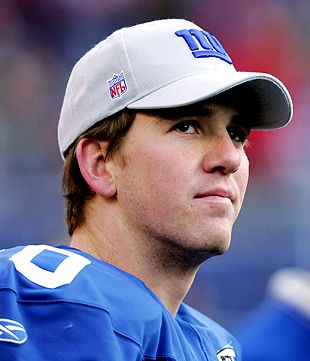 I have liked this kid from the start.
Though I am not a die hard Giants fan, I like his temperment, which contradicts the heart of football.  I like his style, I like his quietness.  Yes, I know I am the only one, but it paid off.
Great job Eli!